The XBO Weekly #10 – Crypto News
FTX bankruptcy sends crypto market tumbling
The collapse of the second largest cryptocurrency exchange FTX causes Bitcoin (BTC) to drop 21% of its value week on week, to $15,700, the same value of Bitcoin exactly two years ago, and this on the anniversary of the leading cryptocurrency's all-time high of $69,000. FTX and many of its subsidiaries, including Alameda Research, which was once valued at $32 billion, declared bankruptcy, leaving a $10 billion hole in the balance sheet. The situation was exacerbated by insiders or hackers withdrawing whatever was left in client accounts, making it even more unlikely that depositors will receive their money back. Analysts and investors are concerned about the spread of contagion. While numerous high-profile exchanges scramble to produce proof-of-reserves by moving money back and forth, outflows from exchanges to self-custody wallets have reached historic highs. The story is unfolding quickly, so watch this space.
Ethereum qualifies as "ultrasound" money
In a silver lining, Ethereum (ETH), which saw weekly losses of more than 20%, reached "zero net issuance" 55 days after its merger event, qualifying it as deflationary "ultrasound" money. By replacing block rewards for miners with rewards for validators that stake ETH, the merger cut the issuance of Ether by around 90%. Because Ethereum employs a mechanism that removes currency from circulation depending on activity, greater Ethereum network activity resulted in a rate of new ETH creation that was lower than the rate of destruction. The term "sound money" was first coined to describe Bitcoin, a decentralized currency with a limited supply of 21 million tokens. 
Solana ecosystem hardest hit
The Solana ecosystem suffered the greatest weekly losses in the smart contract platform industry. The SOL token lost 60% of its value, while the aggregate floor value for Solana non-fungible tokens (NFTs) fell by over 70%. Solana's disproportionate decline in comparison to other cryptocurrencies is partly due to its association with the now-defunct FTX and sibling trading firm Alameda Research, who funded and promoted Solana since its inception in 2020 and held approximately 10% of Solana's tokens. The bankruptcy occurred at the end of a timeframe (Epoch in Solana jargon) at which a substantial number of SOL would be unlocked, resulting in anticipated selling pressure on Alameda's second largest investment. Solana finished the week at $13, less than 5% of its all-time high of $260 set a year ago.
XBO featured Coin of the Week – Polygon (MATIC)
Despite the instability of the previous week, the MATIC token, the Polygon network's proof-of-stake currency, showed hints of strength. While it returned bull run gains accumulated before the crypto market meltdown, it managed to stay inside the confines of its upward channel trajectory.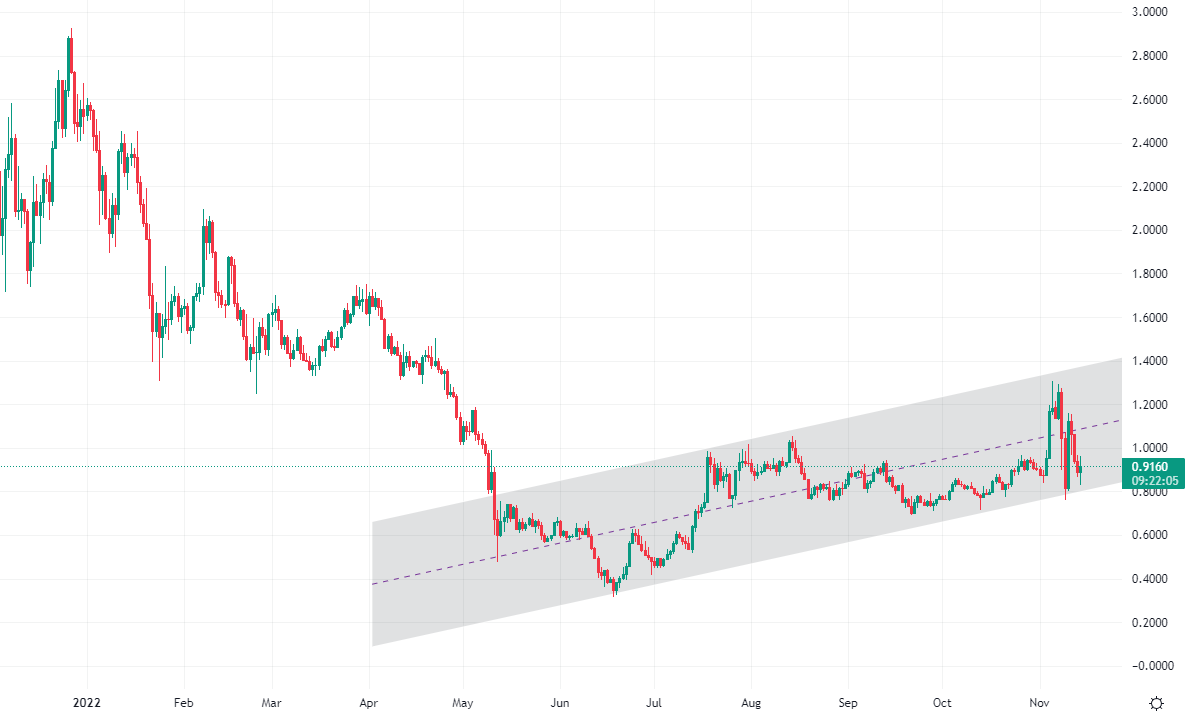 Polygon MATIC year on year daily chart (tradingview.com)

Polygon is a decentralised platform that allows developers to create decentralised applications (dApps). It operates on the Ethereum network, taking advantage of its security and infrastructure. It is capable of processing transactions quickly and with consistently low transaction fees. Polygon has recently been selected as Meta's initial partner for NFT capabilities as well as JP Morgan blockchain of choice for incorporating cryptocurrency into standard financial institutions.
MATIC peaked at $2.92 in the end of 2021 and is currently trading at 96 cents. 87% of the maximum supply of 10 billion tokens is already in circulation.
Buy MATIC - Simply and securely, with XBO